Protests continued today across Greece to protest the government's abrupt decision in the evening of Tuesday 11 June to shut down public radio and television broadcaster ERT (see
here
and
here
). Several labour unions called for a general strike today, including the civil servants' union ADEDY, the General Confederation of Labour GSEE and communist-affiliated PAME. The media strike, which started yesterday for radio and television stations, extended today to newspapers. As a result all media except ERT and media re-transmitting ERT were on strike. A large demonstration took place in front of the ERT headquarters in the morning, while several other rallies and protests were held in other cities and towns across Greece and abroad (photo gallery
below
). The media strike in Greece will continue
t
omorrow, with journalists' unions calling upon all unions and citizens to support not only ERT with protecting the compound but also to ensure that media tycoons cannot whip up support or intimidate workers to break the strike in privately-owned media. The journalists' unions further call upon all internet-based media to embed the ERT broadcast in their websites.
Journalists and media unions from
Ireland
,
Turkey,
Cyprus
,
the Netherlands
,
Portugal
and Austria also expressed their dismay at the Greek government's decision and their solidarity with ERT staff. The US-based think-tank Freedom House also issued a
statement
condemning the shutdown and calling it "the most serious in a series of worrying developments for media freedom in the country." This came after French newspapers Libération and l'Humanité published issues with black front pages to protest the closure of ERT.
Libération:
"Greece: Who switched off the TV?"
L'Humanité:
"Greece, a black screen over democracy"
The European Broadcasting Union also published today an
open letter
of 50 directors general of public media from around the world, who demand that ERT be restored to air:
ERT MUST BE RESTORED TO AIR!
We, as Directors General of Europe's public broadcasters, express our profound dismay at the action taken by the Greek Government on Tuesday, 11 June in shutting down ERT with immediate effect.
This undemocratic and unprofessional action of the Greek government undermines the existence of public service media in Greece and its independence from the government.
For that reason, we strongly urge the Greek Prime Minister to immediately reverse this decision, allowing ERT to go back on the air in Greece and we wholeheartedly support the open letter sent by the EBU President and Director General on 11 June 2013."
Having collected the signatures in less than 24 hours, the EBU leadership has now sent the document to the Greek Government in a second letter urging Prime Minister Antonis Samaras to revoke the closure decree, while in addition appealing for at least one ERT TV channel to be left on air.
On Tuesday evening (June 11) EBU President Jean-Paul Philippot and Director General Ingrid Deltenre wrote an open letter to Mr Samaras urging him to see sense and pointing out that "public service media and their independence from Government lie at the heart of democratic societies".
At this point, ERT television and radio channels remain mostly off the air. However there were sporadic reports of radio stations broadcasting either on the ERT frequencies or through other radios (in Heraklion, Chania, Evros, Florina, Samos, Rhodes, Volos, Kefalonia, Kavala, Larissa, Ikaria, Thessaloniki, Patras, Corinthos.) There were also this evening reports from Lesbos, Magnesia and Ioannina that ERT TV was broadcasting again on the analog frequency of NET (channel 2). It was
announced
at 9 pm that Flash fm is now broadcasting ERT's radio programme nationwide.
ERT television is still broadcasting online in Greece and digitally abroad. This is due to a large extent to the help of the
European Broadcasting Union
, which helped ERT staff set up a makeshift studio to broadcast via satellite. This means that TV watchers around the world can watch ERT again (ERT World, the Greek broadcaster's satellite channel, is reportedly back on air since approx. 4:30 pm on a frequency paid by the EBU) but not TV watchers in Greece, unless they have internet access. The EBU offered its analog frequency in Athens for ERT transmission but there was apparently interference with the signal, with ERT engineers and technical staff denouncing throughout the day that ERT digital broadcast on 52 UHF was being forced off air. You can watch ERT on the EBU website
here
.
The EBU president and director-general are coming to Athens tomorrow and seek to meet Minister of Information and government spokesman Simos Kedikoglou in order to persuade him to rescind the government decision to shut down ERT. It remains however unclear if Kedikoglou will agree to meet them. Kedikoglou snubbed today the general secretary of Reporters Without Borders, who was on an emergency trip to Greece and called upon the government to revise its decision on ERT TV and radio as well as international media.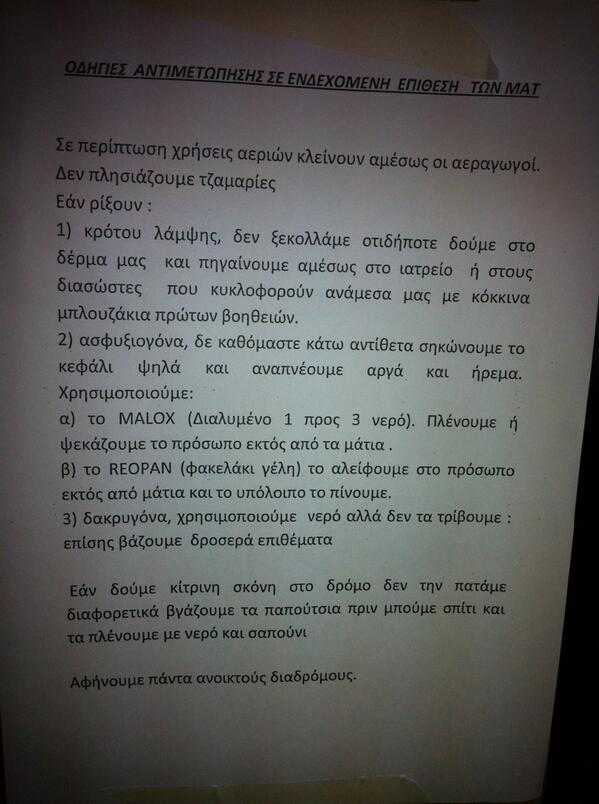 Security instructions posted in ERT in case
of riot police entering the building. ERT staff
also requested antacid medication to use
against tear gas from the Athens Pharmacists
Association, who obliged
Picture by @Voryllious
The ERT employee union POSPERT appealed today to the Council of State to have the government's decision to shut down the broadcasting corporation rescinded. The case will be discussed by the Council of State in September but a temporary decision is expected next week. The shutdown of ERT will also be discussed in the European Parliament on 01-04 July.
The government is still trying to silence ERT despite the pressure of international public opinion. ERT staff denounced today through their Facebook page that the government cut off phone lines, saying
"They cut our phones democratically."
Director Aris Zervakis and two other colleagues were detained by the police and their van confiscated as they sought to deliver supplies to ERT. The communist party's TV station, 902, which was broadcasting ERT, was thrown off the air several times during the day by digital TV provider DIGEA, which, according to Kostas Vaxevanis, was under orders from the government to shut down any station rebroadcasting ERT. The Communist Party issued a
statement
condemning the government's practices as well as the threat of sanctions it received from the National Council for Radio and Television for broadcasting ERT's programme.
An
email
was sent from the office of Minister of Finance to all media today, threatening them with legal action if they broadcast ERT. The email specifically reads:
Dear Madam/Sir,
On behalf of Minister of Finance Giannis Stournaras, we inform you that according to joint ministerial decision ΟΙΚ.02/11.6.2013 (Gazette 2, 1414/11.6.2013), the public corporation ΕRT and its subsidiaries have been dissolved. On the basis of the aforementioned decision, operations of ERT and its subsidiaries are suspended and the broadcast of the ERT signal has stopped.
For this purpose, we emphasize that any transmission of any type of show (on TV or radio) bearing the ERT logo by regional television stations is not authorized and as such is an illegal transmission of and will face all sanctions stipulated by the law.
Left-wing radio station
Sto Kokkino
communicated with Mr. Stournaras's office, who confirmed that the email was genuine. The Finance Minister also requested from the Prosecutor in charge of corruption issues to investigate the finances of ERT.
Furthermore, the Finance Ministry issued a
decision
yesterday to appoint a special administrator for ERT's liquidation. Constitutional law specialist Nikos Alivizatos rejected the offer as long as ERT remains closed. The position was taken by Gkikas Manalis, who was a board member of ERT, finally took the job. He is a former director-general of the Hellenic Stock Exchange, former president of the privatization fund's experts' council and former financial director of the First Business Bank.
On the political front, a meeting between the leaders of the three coalition government parties, Antonis Samaras (new Democracy), Evangelos Venizelos(PASOK) and Fotis Kouvelis (Democratic Left), which was due to take place on Saturday, was postponed to Monday. It transpired this afternoon that Samaras intends to propose to his partners to launch the "new ERT" as early as the end of June, and that lists of employees who could be recruited there are already being drafted. Further information came later that the plan would be to operate an interim broadcaster with minimal staff on consultancy contracts. The
Editors' Newspaper
, which reported the news, also stated that interim agency staff would likely be appointed on the basis of political affiliation.
The embedded video
broadcasts ERT.
Both Venizelos and Kouvelis reiterated today their opposition to the shutdown of ERT, but both also stated that they do not wish to lead the country to early elections, meaning that so far they appear unlikely to withdraw their vote of confidence to the government.
The government however neglected to purchase the domain name for the new broadcaster, which, it was announced yesterday, would be called NERIT. Someone else got there before them.
A similar prank was pulled on the Athens Court of Appeals, whose website was hacked by Anonymous. It now broadcasts an Anonymous video and ERT's programme.
Screenshot of the Athens Court of Appeals website.
ERT concerts are taking place tonight in several places across the country, notably Thessaloniki, Patras and Ioannina, as well as Athens where the ERT symphonic orchestra performed the overture to Tchaikovski's Romeo and Juliet. Furthermore, tomorrow evening, Greece's five major orchestras will join ERT's orchestra and choir for a classical music gala in front of the ERT headquarters at 7 pm.
ERT solidarity protest in Athens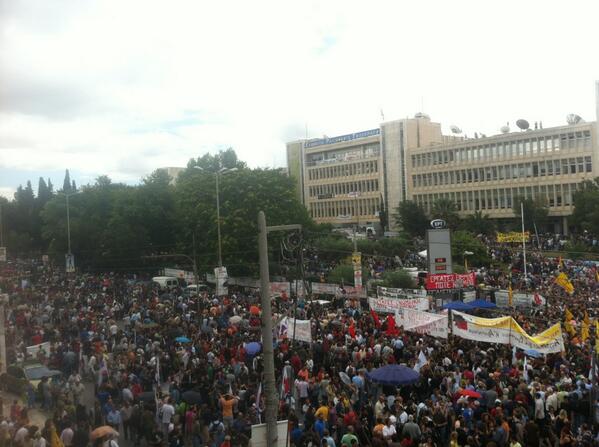 ERT solidarity protest in Athens
Picture by @Polyfimos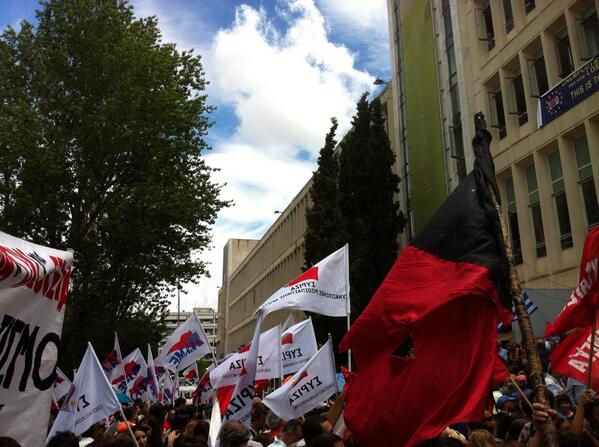 ERT solidarity protest in Athens
Picture by @Bezesteni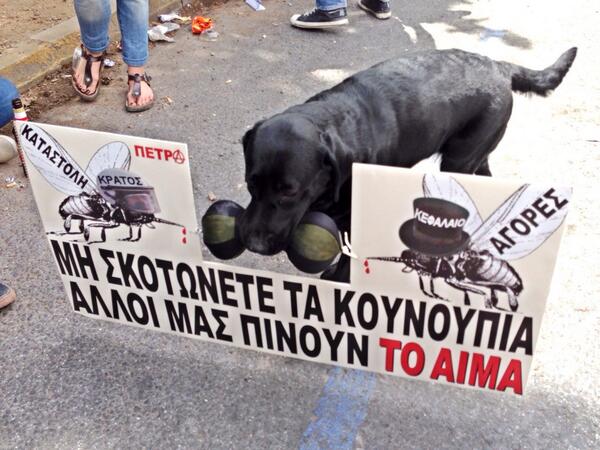 ERT solidarity protest in Athens
Picture by @Papadimi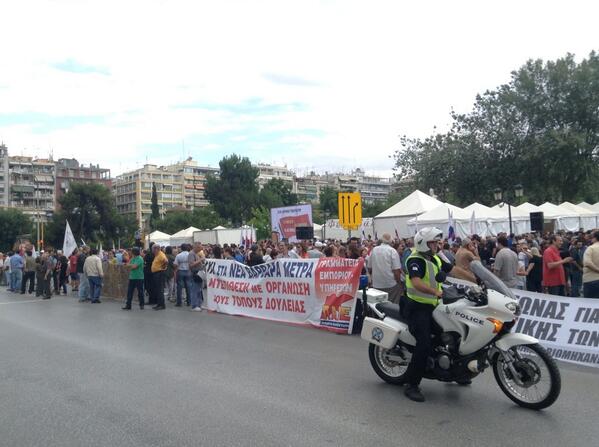 ERT solidarity rally in Thessaloniki
Picture by @VeriasA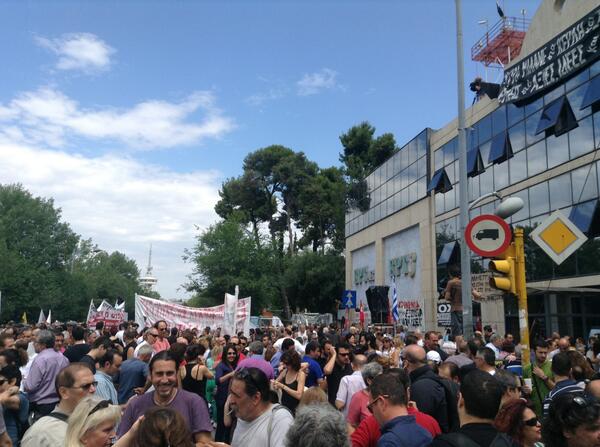 ERT solidarity rally in Thessaloniki
Picture by @VeriasA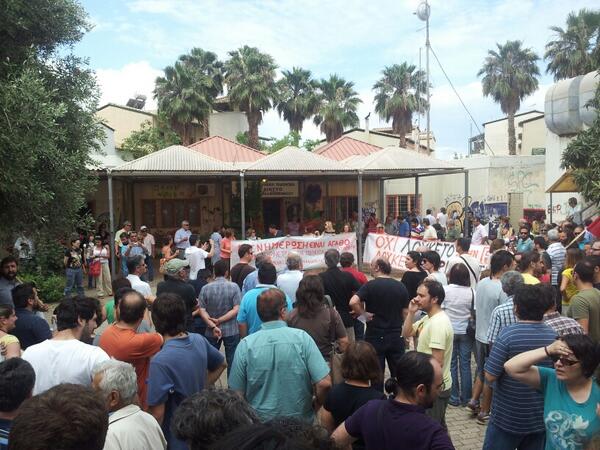 ERT solidarity protest in Kalamata
Picture by @goe4
ERT solidarity protest in Ioannina
Picture by @elina3225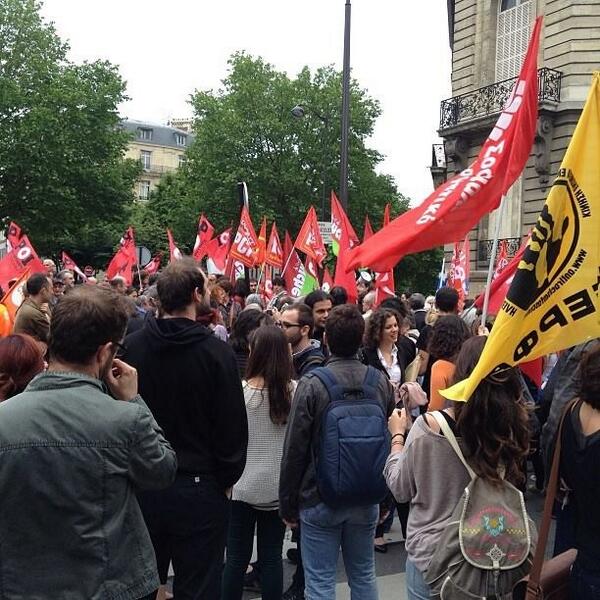 ERT solidarity rally in Paris, France
Picture by @mdenaxa
ERT solidarity rally in Dublin, Ireland
Picture by @ekapros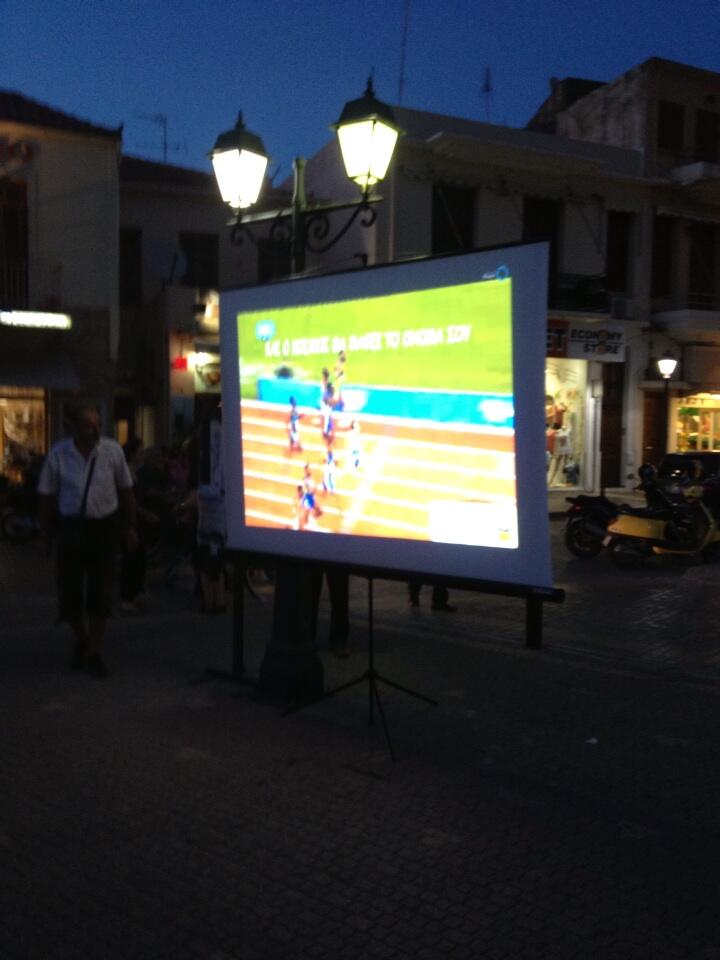 Rethymno central square tonight, people watch ERT
Picture by @katsuohta

Evening concert in Thessaloniki
Picture by @northaura
<<< Previous post in this series: The shutdown of ERT - Live blog 12 June 2013