Following the government's decision to shut down Greece's national broadcaster ERT yesterday and demonstrations across the country throughout the night, we will be live-blogging today the latest developments on this issue.
A summary of key events yesterday (more
here
):
The government issued in the morning an act of legislative content which enables ministers to shut down public agencies and sack their staff with a simple signature. Acts of legislative content are an emergency procedure that allows the government to enact legislation immediately and seek the approval of parliament within three-and-a-half months.
The decision to shut down ERT and sack its ~2,700 staff was issued by 9 pm.
Reaction was immediate from labour unions, opposition parties, international media watchdogs and the public at large. Rallies gathered outside ERT facilities across the country while ERT journalists took over the facilities and continued broadcasting.
The two junior partners of the government coalition, PASOK and Democratic Left, have stated their opposition to the shutdown of ERT and announced that they will not approve the bill when it comes to parliament.
The police was sent to take down ERT transmission facilities late at night. At this point, some other media are broadcasting ERT's signal, mostly online.
A general media strike began this morning at 6 am for radio and television stations, with newspapers due to join tomorrow. Media who are broadcasting ERT's signal are exempt from the strike.
The government announced this morning that a new public broadcaster, called NERIT (New Hellenic Radio, Internet and TV), will be established by 29 August and will operate with 1000 to 1200 employees. The bill to establish the new broadcaster can be found here.
More rallies against the shutdown of ERT are planned today across the country.
12:05 pm:
Demonstration in front of ERT building in Volos (picture by
@MANOLIHELEN
)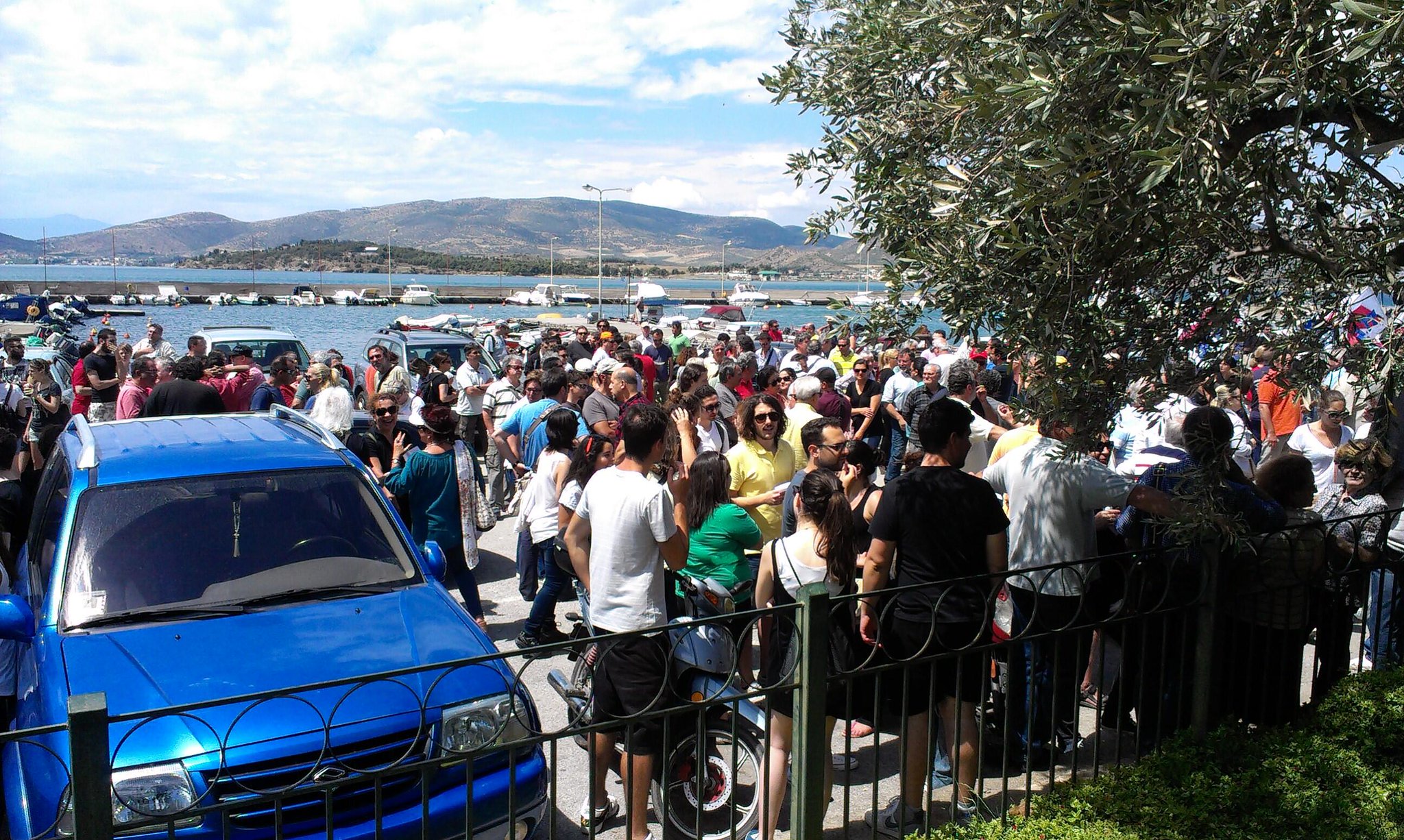 12:14 am:
Secondary ERT building in Katechaki avenue in Athens abandoned and under police guard (pictures by
@karhilam
)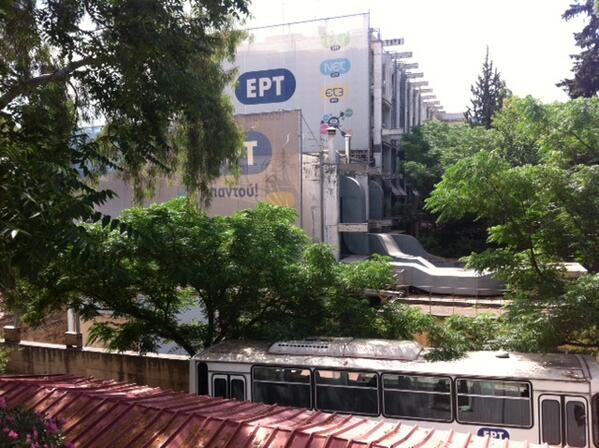 12:30 am:
Discussion has started in parliament, with MPs from the opposition but also junior parties of the the government coalition challenging the closure of ERT.
@dianalizia
is live-tweeting the discussion, which you can find on our live newsfeed
here
.
12:45 pm:
A livestream of ET3, the northern Greece channel of ERT, is available
here
.
12:47 pm: The ET 3 livestream just went offline.
12:49 pm: Greece's two largest labour unions, GSEE (General Confederation of Workers) and ADEDY (civil servants) announce a strike tomorrow to protest the closure of ERT.
12:53 pm: The parliament discussion reverts to the order of the day. SYRIZA has submitted a bill to abolish the act of legislative content shutting down ERT.
12:58 pm:
The European Commission has issued a
statement
on the Greek government's decision to close ERT.
The European Commission has taken note of the decision by the Greek authorities to close down the Hellenic Broadcasting Corporation (ERT), a decision taken in full autonomy.
The Commission has not sought the closure of ERT, but nor does the Commission question the Greek Government's mandate to manage the public sector. The decision of the Greek authorities should be seen in the context of the major and necessary efforts that the authorities are taking to modernise the Greek economy. Those include improving its efficiency and effectiveness of the public sector.
The Commission understands the difficult situation of ERT staff and expects the announced dismissals to be carried out in full accordance with the applicable legal framework.
The Commission supports the role of public broadcasting as an integral part of European democracy. The Treaty makes it clear that the governance and strategic choices on public service broadcasting lie with Member States. So while the Commission cannot prescribe Member States how to organise their public service broadcaster, we would like to highlight the role of public service broadcasters regarding European values in all economic circumstances, for the sake of media pluralism, media freedom and media quality and for the expression of cultural diversity. So we welcome the commitment of the Greek government to launch a media actor that fulfils the important role of public broadcasting and is financially sustainable.
01:01 pm:
The Communist Party has also proposed an amendment to parliament to abolish the decree shutting down ERT.
01:16 pm:
The Piraeus harbour workers vote a motion in support of ERT. A demonstration to protest the shutdown of ERT is taking place in Corinth. The PASOK spokesperson in parliament states that PASOK will withdraw its support to the government if the plan to shut down ERT is not rescinded immediately.
01:35 pm:
All opposition parties except Golden Dawn have submitted some form of legislative initiative to rescind closure of ERT. SYRIZA and Independent Greeks are arguing that the government has lost the confidence of parliament. Talk of early elections is becoming more and more intense.
01:45 pm:
ERT's orchestra will stage another concert today at 5 pm at the ERT headquarters, with a call for the public to rally there.
01:49 pm:
Journalist Kostas Betinakis has filed a motion to disbar government spokesman Simos Kedikoglou from the Athens Daily Newspaper Editors' Union.
01:51 pm:
The owner of the Panathinaikos basketball team announces that the team will not play tonight if the game is not broadcast by ERT. ERT's exclusive rights to broadcast basketball games have been ceded to private TV channel ANT1 under a procedure that remains a the very least unclear.
01:57 pm:
The central organs of PASOK will meet at 3 pm to decide if they will maintain their confidence vote to the government.
02:15 pm:
Economist Kazakis says on ERT that the reason for closure is that €11.7 billion in bonds are due soon, and that, because the government has no cash at hand, its intends to collateralize ERT assets and buildings. Meanwhile, discussion in parliament continues. Independent Greeks has filed a motion of censure against the government and demands that junior government coalition parties take a stand.
02:18 pm:
Journalists from SKAI and Alpha TV stations who broke the strike orders are being referred to the disciplinary organs of the Athens Journalists' Union.
02:26 pm:
Reporters Without Borders has issued a strongly-worded statement on the government's decision to close ERT
IS THE GOVERNMENT TRYING TO ECONOMIZE ON DEMOCRACY?Reporters Without Borders urges the Greek government to immediately reverse its absurd decision to shut down the public broadcaster ERT's three TV stations, which went off the air yesterday at 20:00 GMT, a few hours after the government announced their suspension.
The government's spokesman said the broadcaster had to be closed for restructuring because it was a "haven of waste" but the future outcome of the proposed overhaul was left unclear.
"We are stunned and dismayed by this sudden and savage decision," Reporters Without Borders secretary-general Christophe Deloire said. "Does the Greek government think it can economize on democracy?"
"With the economic crisis already endangering the country that gave birth to democracy, the closure of ERT's TV stations shows a contempt for freedom of information, enshrined in article 19 of the Universal Declaration of Human Rights. The government's methods are incredible."
Media freedom has declined steadily in Greece since 2011. The media's financial model has collapsed as a result of the financial crisis and many journalists have been forced to seek refuge on the Internet. News websites are growing in number and are gradually becoming the main source of news and information for many citizens.
"Even if it means not being paid, you can at least be useful and try to do what is no longer possible to do in the print media," a former senior journalist with a leading daily told Reporters Without Borders during its visit to Greece in June 2011.
Greece's journalists are also exposed to judicial persecution, especially when they take too much interest in certain business interests. The victims include Kostas Vaxevanis, the editor of the weekly Hot Doc, whose trial for publishing the "Lagarde List" of suspected tax dodgers began on 10 June.
At the same time, journalists and media – both traditional and online – are the constant target of threats and violence from neo-Nazis, while radical anarchist groups attack reporters during demonstrations, as do the security forces, often with exceptional brutality.
Greece is ranked 84th out of 179 countries in the 2013 Reporters Without Borders press freedom index, a fall of 14 places from 2012.
02:38 pm:
A demonstration against the shutdown of ERT is under way in front of the Greek embassy in Brussels (picture via
@thesspirit
)
02:58 pm:
The riot police has reportedly entered the ERT TV premises in Thessaloniki. Earlier reports also mentioned ERT radio. This is however denied by
@AndreasKakaris
, who is on the spot.
03:11 pm:
Outside the ERT HQ now, picture by
@illuminatios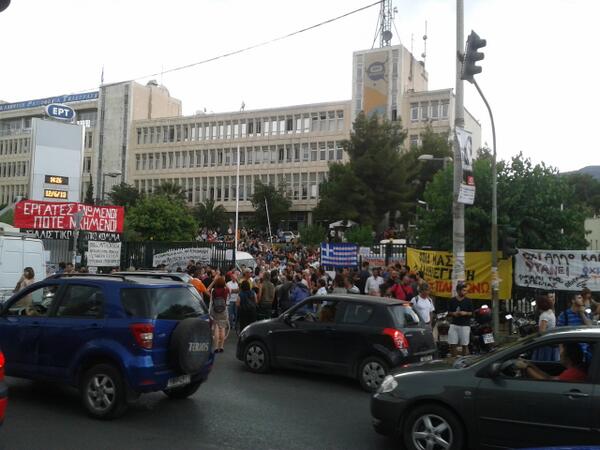 03:21 pm:
According to SYRIZA-affiliated radio Sto Kokkino, Prime Minister Samaras intends to ask PASOK and Democratic Left to give him a vote of confidence. A meeting of the three coalition party leaders is due to take place at 6 pm.
03:34 pm:
A protest took place outside the office of Minister of Information and government spokesman Simos Kedikoglou in his home constituency of Euboea, with the slogan "ERT is not private, neither is it Simos's private business". Pictures
here
.
03:44 pm:
The Rectorate of the Aegean University issues a
press release
emphasizing the utmost importance of a national broadcaster for archipelago regions and questioning the motives and methods of the government.
16:09 pm:
The ERT headquarters are full of people, as can be seen in this video from 3:30 pm
16:19 pm: Protests against the shutdown of ERT in Thessaloniki and Madrid
Thessaloniki, Picture via @asteris
"Bailouts annihilate the press and its people"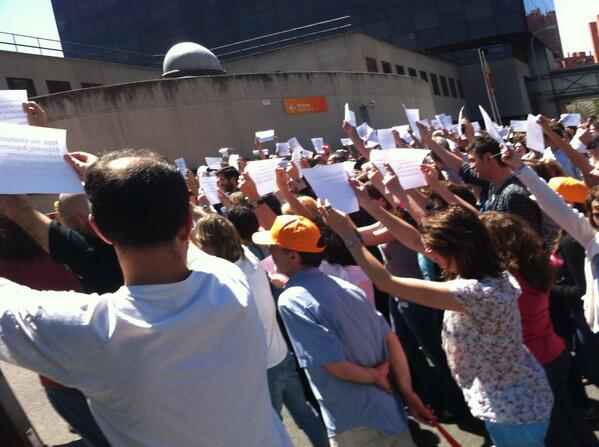 Madrid, Picture via @asun24htve
TVE employees protest in solidarity with their ERT colleagues
16:32 pm:
Greek constitutional law specialist Katrougalos explains that, while process to shut down ERT is unconstitutional, it cannot be overturned by a court or by the president himself. It can be overturned only by the Council of State or a new government decree.
16:35 pm:
New Democracy issues a
statement
to condemn journalist unions ESYEA and POASY for silencing its views, claiming that "for unions, democracy apparently means allowing only the opinion of minorities". The press release acknowledges however that those media who are not on strike let PASOK and Democratic Left express their opinion in addition to opposition parties, with some fuzzy math apparently involved in determining who the majority is.
15:25 pm:
This video was uploaded by @mp_anana. It shows people inside ERT offices, singing "fascism won't pass", a line from the song "acordeon" of a prominent composer Manos Loizos

17:27 pm
On a press release, New Democracy condemns journalists unions ESIEA and POESY for silencing its views
http://bit.ly/1bvGfmI
17:41 pm
More people arriving at ERT premises ahead of solidarity concert, although rainy weather is not helping much @patsiko_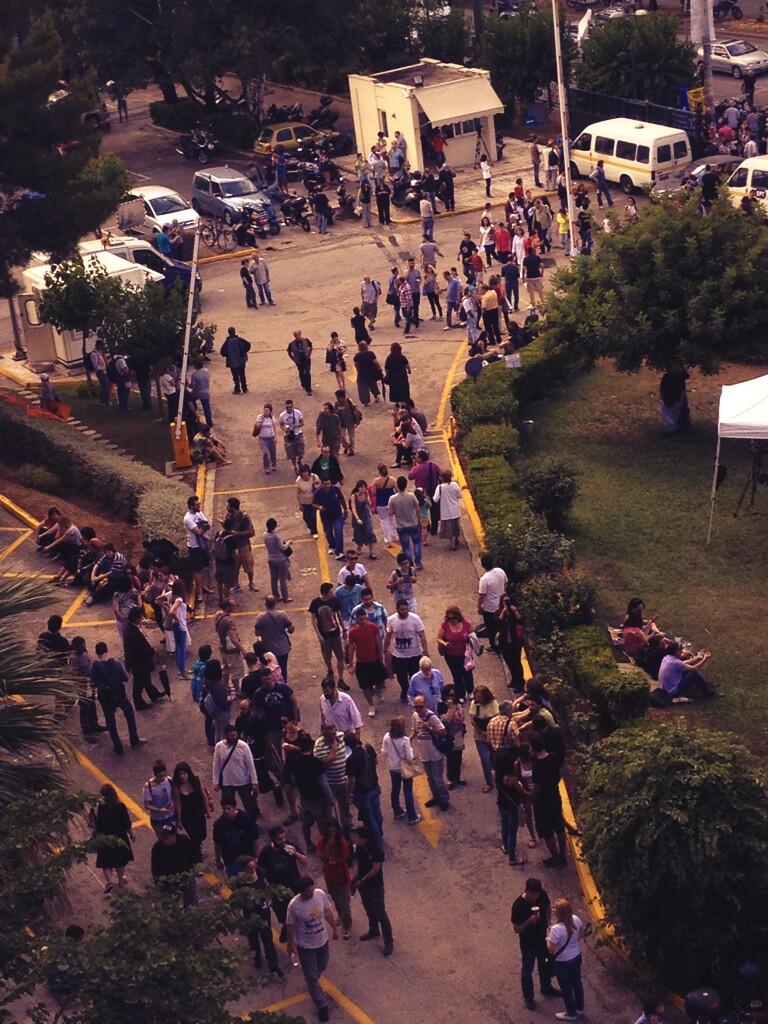 17:50
pm
Venizelos and Kouvelis will meet up in ten minutes. In case they don't change their stance on ERT issue, chances of early elections are increased. Venizelos reportedly said "we don't want elections but we are not afraid of them either". Sources say he is under pressure from PASOK members to "abolish" the government.
18:30 pm
The solidarity concert at ERT will start a bit later due to rainfall
18:45 pm
The European Commission issues a
statement
on ERT, backing up the Greek government.
19:30 pm
Many people gathered already at ERT and many more keep coming @mp_anana
19:45
pm
According to
Avgi newspaper
Panayiotis Baltakos, a close aide to Samaras, whilst discussing with journalists, he considered the prospect of a New Democracy-Golden Dawn coalition something "to be avoided but not impossible"
20:00 pm
The meeting of Venizelos and Kouvelis is over and both leaders spoke to the Press. They expressed the need for a change at #ERT but underlined it should be done through a democratic process with the state broadcaster remaining open. To this end they asked for a meeting with Samaras to ensure the coalition government runs smoothly and completes succesfully what is best for the country.
21:08 pm
A summary of Samaras speech translated by @dianalizia
Samaras was sticking to competitiveness as keynote to EBEA awards. He ppoke about a vision of Greece as a country of entrepreneurship, meritocracy and inspiration for youths that will manage to come out strong from crisis. He made comments on bureaucracy, social denigration of competitiveness, underlying that "Greece had become a jurassic park, where dinosaurs of antiquated [mentality] flourished. ERT was the symbol of spending and lack of transparency. That ended yesterday. We're not closing down public TV; indeed now we'll manage to have a proper public tv. ERT staff is concerned about its benefits" adding that "there is no actual problem with the employees, who will be compensated and many of them hired back". He accused unions for imposing silence on media, an oblique reference to journalists' strike. "what you've seen these days are the last traces of an establishment of privilege that is collapsing"
21:26 pm
Solidarity protests for ERT closure took place in Paris, Berlin, London, Hague, Brussels, Madrid
22:46 pm
Following Samaras speech on ERT, the prospect of early elections seems now more likely in DIMAR circles
00:11 am
Pic of solidarity demo in Brussels outside the Greek embassy
00:38 am
Front cover of French La Libération "Qui a èteint la tèlè" {who switched off the TV)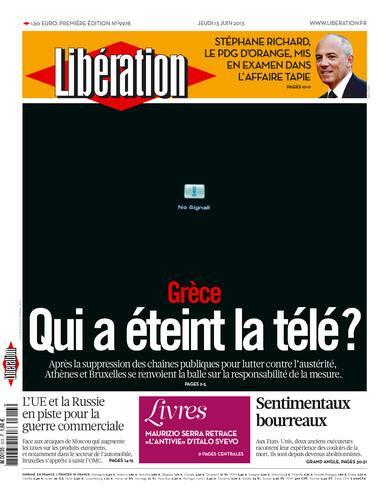 00:50 am
In Thessaloniki solidarity concert is underway for ERT @andreaskakaris
01:00 am
2000 people at ERT HQ in Athens @mavrimelani. The pic below is taken on the groundfloor @mikrosAlexis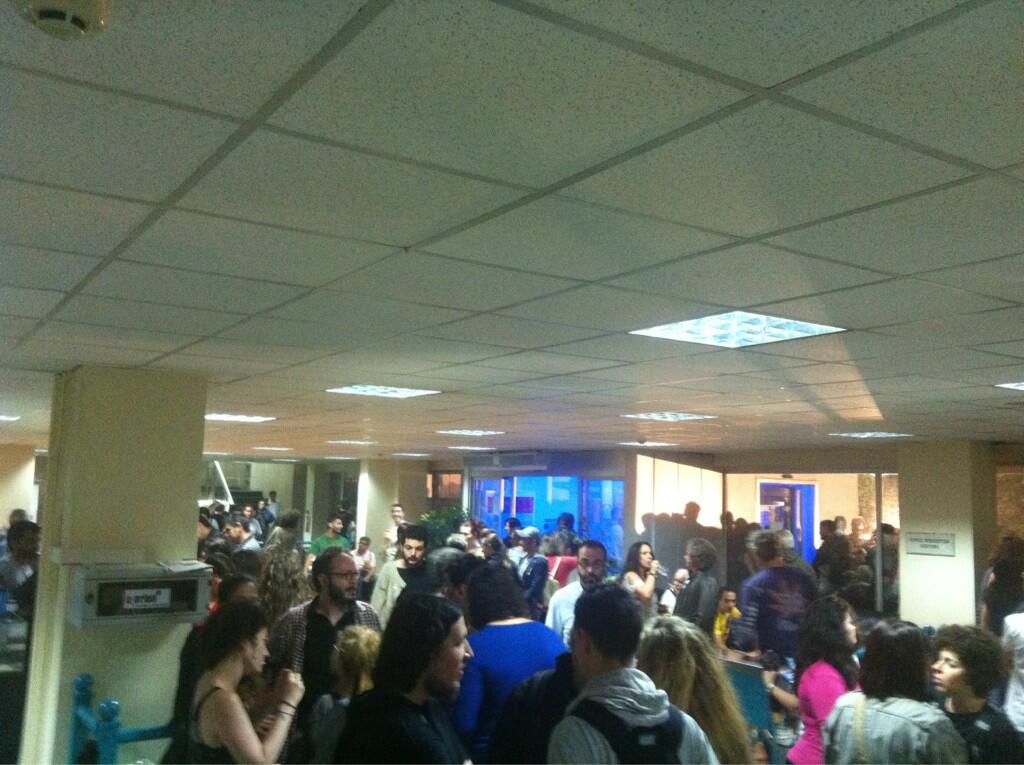 <<< Previous post in this series: Greece: The government wants to shut down public radio and television